LT | Oct 31, 2008 | Comments 0
Subramaniam Ramadorai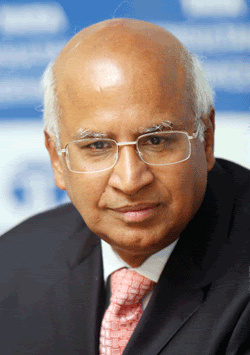 CEO, Tata Consultancy Services
ACHIEVEMENTS Tata launched a major expansion in Latin America, with a service center in Guadalajara, a US$200-million outsourcing deal with the Social Security Institute of Mexico (IMSS) and major contracts with ABN Amro bank (now Banco Santander) in Brazil, the Civil Registry in Chile and Banco Pichincha in Ecuador. It employs more than 5,000 professionals in Latin America and caters to more than 150 clients in Argentina, Brazil, Chile and Uruguay.
BACKGROUND Ramadorai led Tata Consultancy Services' creation of Offshore Development Centers in India—a cornerstone of the company's growth into a US$5.7 billion software and services companies with more than 110,000 associates in 53 countries. Ramadorai, who learned mathematics from his father and earned degrees in physics, electronics and computer science, started as a trainee engineer 36 years ago and became CEO in 1996.
"In the future, delivery will not be out of India alone."
TECHNOLOGY
OUT-SOURCE OF INSPIRATION
Shortly after joining the Tata Group 30 years ago, Subramaniam Ramadorai set off to the United States to open the first international office of Tata Consultancy Systems (TCS). The idea? Instead of importing people to do information technology work, Ram—as he is known—wanted to show that U.S. companies would import services from the same people living in their home countries. Today, TCS is a leading global tech services firm with US$5.7 billion in revenue and more than 116,000 IT consultants worldwide in 42 countries. Ram talks to Latin Trade about developing the business and expanding in Latin America.
How did Tata Consultancy begin?
The Tata Group has always been renowned for its pioneering spirit. Among the many firsts to its name are the founding of India's first steel mill, its first luxury hotel, its first airline and its first passenger car. Tata Consultancy Systems was created in 1968 to provide computer services to other Tata group companies. The first software export project was undertaken in 1974. Shortly after I joined the company I was sent in 1979 to America and I spent two years knocking on the doors of countless American firms and remained persistent in the face of immense rejection. It paid off when the company won its first customers and proved it could stand on its own feet.  Dealing with adversity only makes a company stronger. If everything is peaceful, individuals and the organization as a whole aren't pushing themselves to do their best.
How did you identify the opportunity to establish Offshore Development Centers (ODCs) in India?
India had a large resource base of educated professionals and a strong educational eco-system steeped in science and math. Since there was no domestic market for IT services in India, TCS was forced to look at international markets. From the outset, Offshore Development was a strategic partnership between TCS and its customers, to ensure that each customer's unique business goals and objectives were met. In the future, delivery will not be out of India alone.
The model seems to have been transformed in recent years to develop Centers in Latin America? Why?
ODCs in Latin America, and indeed in other locations such as China, enable customers to benefit from onshore and offshore services in their same time zones and language, as well as with geographic and cultural proximity. In Latin America, we want to tap both the fastest growing IT market worldwide and the talent pool in these countries toward servicing the firm's global clients across the world.  Today, we provide high quality IT services, business solutions and outsourcing to over 150 regional and global clients across 14 countries in Mexico, Central America, South America, Spain and Portugal.
What has been the key to convincing others to support your project?
Persistence. Since our beginnings in 1968, when we were set up to serve other Tata Group companies with second-hand IBMs and an early ICL machine, TCS has had to overcome challenge after challenge. In the early days, when I joined the company, the government did not make it easy for companies such as TCS to import computers, as there was a suspicion they would serve to displace jobs. As a result, TCS had to pay tariffs of over 100% on new computers. TCS persisted, and by the late 1990s, amongst fears about the 'Y2K' bug, the value of its work started to gain global recognition. Today, TCS is India's largest software company, which is surely proof that persistence pays off.
Filed Under: 2008 WINNERS
About the Author:
Comments (0)